The Canadian customer really like SMY deck lights
The Canadian customers really like SMY deck lights
We get so many customers good feedback on our deck lights. They installed in the garden or patio. When they turn on the deck lights at night. These decking lights looks very beautiful. Especially, these customers from Canada. Maybe their yard very big. And have lots of steps need deck lights for decorating at the outside house. See the attached photos.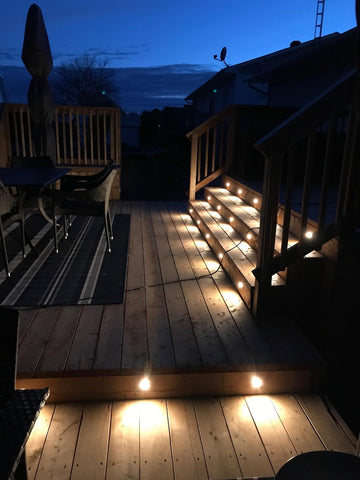 One customer reviews as below:
Very satisfied with this product. I hooked up 14 of the lighting in the deck and on the threshold to mild the step. The lighting appears properly sealed and takes a seat nicely flush with the deck surface. The connections appear precise. I might have preferred a touch longer cables between lights and among the primary light and the transformer so that I ought to area the lights out extra because they're very brilliant and could have been spaced wider to light a bigger area. Very satisfied so far and would purchase once more.
Also many American customers like our SMY deck lights for house outdoor landscape lighting. But they like order more one set dimmer controller for their deck lights. Yes, some people will be feeling these lights too brighter for the steps and home yard. 
You can order the led dimmer controller with a remote from our website directly. It really fit for our deck lights.
Just what I needed to dim the super bright deck lights I bought. I loved the lights and the ease of installation but they were super bright once it's completely dark out. The in off and dimming functions work well from within my house to control the lights.
That is one of my American customer review on our deck lights dimmer.