New Solar Motion Sensor Security Lights
☀️

【Ultra Bright Solar Motion Sensor Lights 】- The SMY Lighting solar security light with the three heads design, equipped with 150pcs super bright LED beads, produce up to 2400lm 6500K high brightness output and good heat dissipation, which is far brighter than other similar LED solar lights. The conversion rate of our upgraded polycrystalline silicon solar panels is as high as 20%. Incredible photocell efficiency, also working great in winter.

☀️【PIR Sensor & 3 Modes】- Solar outdoor lights enhanced with motion sensor and wide-angle 120° sensing system, the solar flood lights outdoor can detect up to 26 feet for the movement of people, cars, and animals within a sensing range of 120°. Solar lights have 3 lighting modes for you to choose: ①Super brightness sensor mode ②Constant light + sensor mode ③Constant low light mode. 3 modes, suitable for a different place, more convenient to your life.

☀️【Super-Bright & 360° Rotatable Spotlights 】- The outdoor solar security lights have 3 heads with 265 LEDs that can be rotated 360°, offering a good coverage of luminosity, you can easily direct the heads in your desired directions. PS: Auto on at night / Auto off at day.

☀️【 Long Working Time & Energy Saving】 - SMY solar motion sensor lights have built-in 18650 lithium rechargeable battery (2200mAh) ensures full charge at low light. you just need to place the solar panel under direct sunlight during the day. No pollution, no electricity cost, energy-saving and eco-friendly.

☀️【IP65 Waterproof& Customer Service】- This solar flood light is water, heat, frost resistant for all kinds of bad weather, perfect for outdoor, garden, driveway, front door, wall, streets, garage, walkways, patios, backyards, and windows, etc. SMY Lighting focus on improving the customer shopping experience. If you have any issues with the solar motion sensor light, contact us directly and we would love to help you within 12 hours.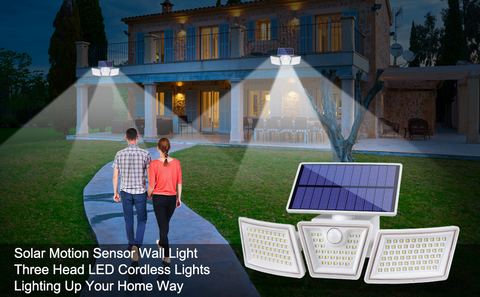 Prior to first use, please charge the solar outdoor motion lights under direct sunlight (without any shadow) for 1-2 sunny days, no matter the switch is on or off, they absorb sunlight and charge.

Please test it in a dark environment, and gently press the switch button to ON, you will hear "click", the light will be turned on.

Solar lights are sensitive to light, please install it away from a street light or another light source at night. They only work in a dark environment.

The charging and lighting time of solar light varies with weather conditions. If in the winter, solar light can't get enough energy from sunlight, so it is normal that it has lower brightness and shorter working time at night. We suggest you charge these lights during the day and then turn the switch off to store energy at night. After the second day's charging, you can keep the switch on at night. The lights should work for 6-8 hours again.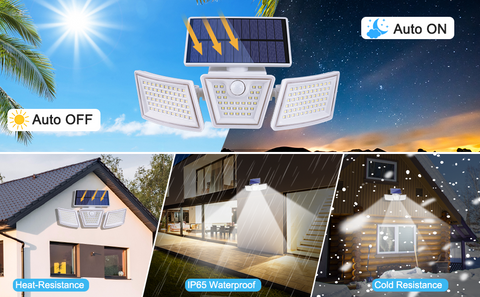 This is a three-head solar outdoor light with PIR Motion Detection Sensor.
There are 360° solar panels and 360° rotatable spotlights, which can cover a wide area.
It is a very brighter outdoor security light that will light up when someone approaches the house.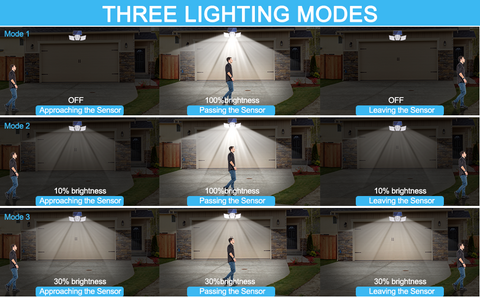 Great purchase!
Super happy with this purchase. I needed some lights to illuminate some dark corners of my backyard when I let my dogs out at night. Illuminates just right and not too much to disturb my neighbors. I was worried I wouldn't get a good solar charge in rainy PNW but gives good light even after an overcast day.
easy to install and it is really bright.
the light turns on for a few seconds when a human body is approaches it from about ~2 ft distance.
The light is really bright.
The best of all is that it is recharged with solar panel, so it can be hang anywhere without an outlet nearby.
thief detecting light
I used these motion-detecting outdoor lights to detect any movements near my house. I mounted them next to the pathway to my yard, no one can pass through without triggering the lights on. The lights are a bit smaller than I thought, however, I don't care about the size since the job is already done.
Lot of light
We r happy with this product. We purchased these to place at a old barn that we kept various items some of which was stolen. So therefore we mounted these lights were if someone came around during the night they would pop on & hopefully they would leave.
LED Solor Lights
Couldn't wait to get the product to be used at an impound lot, super bright, easy to install even on a gate, no boards. Lights stays on a while and the sensor is awesome. I ordered 1 to see how it is first but after installing the pair, I will be ordering 2 more for the middle of the lot and corners. Fast delivery as well, product and seller highly recommended.