10000 Lux LED Therapy Light
Specifications:
【Sleek & Modern Oval Design】: Its unique oval shape looks like a glowing egg and 3000K 4200K 5700K color temperature optional make it not only a light therapy lamp but also an attractive focus in your home.
【Safe & UV-Free LEDs】: Light intensity measured in lux should be 10,000 to mimic a bright sunny day. It delivers healthy 'good for your eyes' natural light that lifts your mood, enhance focus.
【Adjustable Brightness】: With 5 brightness levels (5%/25%/50% / 75% / 100%), you can set it to the best level according to the environment, distance from the lamp, and your sensitivity with just press the key on the lamp body to adjust brightness as you like.
【Memory Function& Timer Built-in】: Helps you quickly turn on your light from last brightness setting, press the timer key can set the lampworking time (10min, 20min, 30min, and 60min).
【Portable Design】: Compact size (7.5 x 8.6 x 1.96 in) for easily fit in small places and storage; fits next to your laptop, on the kitchen counter, on your cubicle desk, and elsewhere.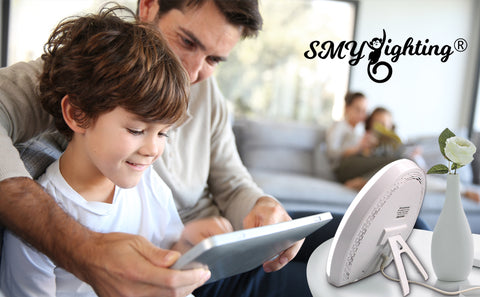 5 Brightness Levels Dimmable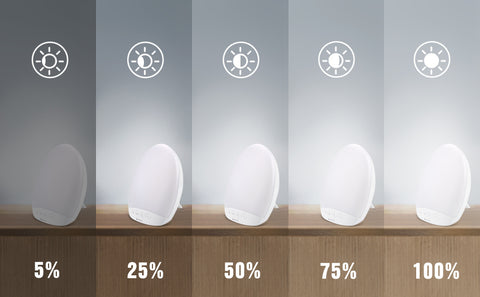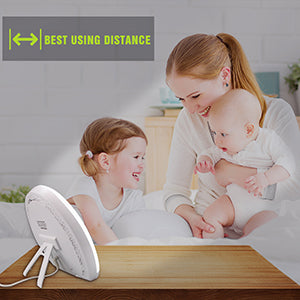 Best Using Distance
Place 10 inches - 20 inches away from your eyes and find a comfortable angle that makes sure the light is facing your eyes, but avoid looking directly into the lighting.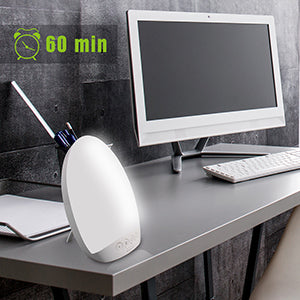 60 Minutes Timer
Find the most comfortable distance and angle (make sure the light is facing your eyes, but avoid looking directly into the light). We recommend starting with 10 minutes, and then gradually increase your usage to 30 minutes to 1 hour daily until you find a time that is most effective for you.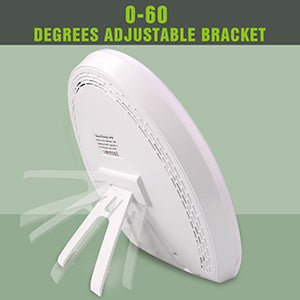 Foldable Standing Bracket
The adjustable stand can be used for tilted in various angles to suit every unique environment. With its compact size, you can also easily bring the lamp along when traveling or going to work.
I really like this product
Chatting with friends, Two days later I happened to need a lamp. Them i remembered it and liked it very much. It had the atmosphere I wanted and the light wasn't too harsh. The two modes switch easily and are extremely comfortable to use.
I love it
My therapist recommended I try a SAD (Seasonal Affective Disorder) light to help improve my mood during the winter months. I am so glad I was able to find one that is affordable and easy to use. I like that you can adjust the brightness and it remembers the brightness setting for the next time it is turned on.
I turn it on for about 30 minutes in the morning while I answer my work emails and so far I have seen an improvement in my overall mood. I look forward to using this every morning.
very good
Product of lamps and lanterns is very good, design is very beautiful, the most important thing is that the quality is very good, good, very satisfied, very good, do manual work is also very delicate, design also is very tide, the packing is sealed, is also easy to install, light quality is very good, it is better than expected, the packing is sealed, do manual work is delicate, very beautiful, after mount atmospheric grade, the material of lamps and lanterns look very good, no burr smooth brightness is also very good, no flash, the light is downy
Pleased with my purchase
I have had this for more than two months and it was the best choice I've made! Working remotely had caused stress and I purchased this light in hopes that it will help and it has. I also like the shape and design of this light. The dimmer is a great feature as I don't always want it in full brightness and I then able to adjust to my needs.
I also bought the rectangular version for my husband he is also pleased by the positive effects it has created for him.
It works as advertised
We bough this for our home office. The ceiling fan lights are not very bright, and we live in Ohio so a gray sky is the norm. This is very bright when it's on all the way. I like the dimming capabilities on this lamp, although it did take a couple tries to find the right spot to get he dimming to work. I'm happy with this purchase.