SMY Blue Light Therapy Lamp

Specifications:
【LED, UV-FREE, BLUE COLOR LIGHT】The Blue Light Lamp as the same effects as 10,000 lux white light lamp, mimic a bright sunny blue sky. If you can't get outdoors or there's not enough natural light available, this is a perfect choice to get your daily light intake.
【2 LEVELS BRIGHTNESS ADJUSTABLE】The bright lamp has 2 adjustable brightness levels controlled by a touch switch. Adjusting the brightness depending on the usage environment, allowing choosing from 50% level to 100 % level of brightness.
【AUTO SHUT-OFF TIMER】Equipped with a built-in timer, you can control the length of your light therapy session according to your needs. Time intervals can be set as 10, 20 and 30 minutes. The blue light therapy lamp fights energy dips, fatigue, and winter blues; results in just 20-30 min/day; use while reading, working.
【MODERN DESIGN】Portable pad design and fits for any desk or work surface, blends seamlessly into your home or office, as well carry for travel. Place it on a nightstand to help raise you up and start an energetic day.
【SAFE AND BLUE LIGHT THERAPY】Non-hurt - perfect for office workers who are too stressed, late shifts, jet lag, insomnia, bad emotional, and sunlight deprivation.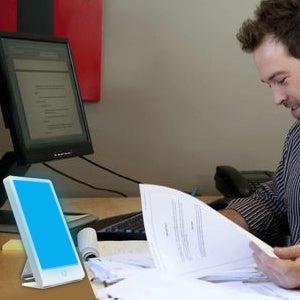 How Important To Use Light Therapy Lamp
With the increase of human life and work intensity, the whole stay in the office for a long time, rarely sees the sun lead to a bad mood. So this blue light can help you relax and enhance your attention.
Ideal for your office working increases energy levels and mood to help you stay sharp and controls glare for ultimate eye comfort.
1.For a regulated day-night rhythm
2.Compact design
3.Ideal for the person who stays indoors working for a long time
4. Exceptionally even illumination
5.Flicker-free and UV-free
6.Time display in 10-minutes intervals(10/20/30minutes)
7.Timer with automatic switch-off(after-30min)
8. Energy-saving LED technology 
Model: LTL-101G-WHI
Rated Power:5W
Adapter:Input 100-240V
Output:5V 1A
USB Cord:1.5M, 2.5A
Material: PC+ABS
Color: Blue Item
Size:9.45*5.59*0.71 inch
Package:
1*Light Therapy Lamp
1*AC Adapter
1* USB Cable
1*User Manuel
Our professional advice:
1. Place the lamp at an angle to your eyes (about 45°). Do not look directly into light.
2. Keep lamp 12-20 inches (30-50 cm) from your eyes.
3. To find the best comfort/effectiveness level with your lamp, start off with 50% light intensity for 10 minutes; after a few days, move to 50% for 20 mins; then 50% for 30 mins. Now you can experiment with 100% for 10 mins, then 20 mins, then 30 mins. Choose the intensity/time level that best suits your blue light therapy objectives and comfort.
Blue light therapy lamp has a similar effect on well-being as a sunny blue sky leads to you have a great mood.
Does what it's supposed to do
I've had seasonal affective disorder long before it had a name. I bought my first blue light about eight years ago. When it died, I bought this one, and I'm very pleased with it. It's a bit larger than the old one, but just as effective and simple to use. For me, this item is a wintertime essential.
Great Therapy Light with great SMY Service!
I bought the Blue Light Therapy Lamp 101G in October 2019, and used it throughout that winter. As a first-time user of a Blue Light device, I experienced a positivity and a calm demeanor which I usually do Not enjoy during the winter dark, gray days. The Blue Light performed well as advertised.
6/5 stars
On days when I don't use this I have less energy.
Great gift - son loves it
My son uses it because he needs to offset SAD
Recommend
Love it. It casts a nice blue light. Fights low energy in winter. Recommend.