10,000 Lux LED Light Therapy Lamp
Specification:
【10,000 LUX FULL SPECTRUM UV-FREE LIGHT】 Utilizes full spectrum filtering out harmful UV light; delivers up to 10,000 lux intensity for winter use to get longer sunlight hours.

【USB TYPE-C POWERED & COMPACT DESIGN】 The light therapy Lamp powered by a 5V 2.5A AC/DC adapter and a Type-C USB cable. It is also convenient to be connected directly to a computer or a surge protector. With weight only 1.5 lbs, this sunlight lamp is compact and on-the-go portability.

【PERSONALIZED SETTINGS】 This light therapy lamp designed with 3 colors of light (white, natural, and warm) and the innovative stepless dimming for color switches. The possibility of multiple settings provides the most choice and maximum comfort for users You can have it stood on the table or mounted on the wall.

【COUNTDOWN TIMER】 Comes with a built-in automatic timer from 10-60min in 4 sessions (10/20/30/60min); we recommend an initial session of 10 minutes and to gradually increase from 20 minutes to 1 hour daily until you find a time that is most effective for you.

【MEMORY FUNCTION】The user-friendly memory function resumes your preferred settings (Light colors, Brightness, Timer) even if POWER OFF. Avoid re-adjusting settings every time you use it. Great gift option for seniors on this winter and coming holidays.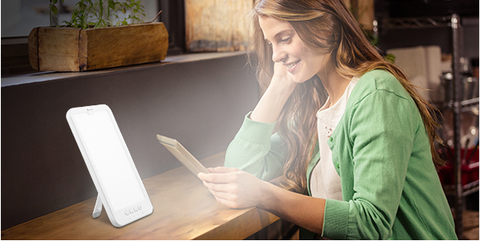 The 10,000 lux led light therapy lamp brings you daylight indoor by bright light, no-flicker, and UV-free. Provide natural sunlight on a snowy day, rainy day, cloudy day, and other moment lack of sunlight. A tablet designed with foldable stand, blends seamlessly into your home or office, easy to carry and use.
Technical data:
Materials: ABS+ PC
Adapter Input Voltage: AC 100-240V, 50/60Hz, 0.4A
Device Input Voltage: DC5V,2.5A
Power Rating: 1-10 W
USB Cord: 1.5M
Color Rendering Index (CRI): >80
White Light: 5, 500-5, 700K
Natural Light: 4, 000-4, 200 K
Warm Light: 2, 800-3, 000 K
Operating Temperature: -20 to 50℃(4 to 122℉)
Storage Temperature: -20 to 60℃(4 to 140℉)
Relative Humidity: 10 to 90% non-condensing
Measurements: 242*144*19mm(9.5*5.6*0.7in)
Product Highlights
✔ Flicker-free and UV-free
✔ Stepless dimming
✔ Evenly distributed LED light
✔ Natural spectrum light
✔ Simple and easy to use
✔ Timer with automatic switch-off
✔ Energy-saving LED technology
✔ Safe for eyes & skin
✔ Compact design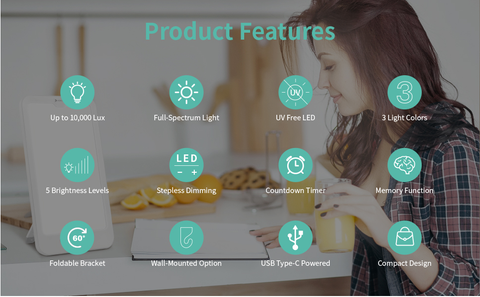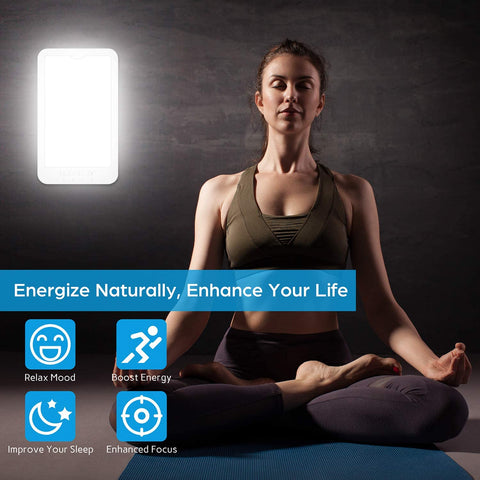 NOT GOOD
You wanting me to review something I never received.
That seems odd.
Seems like you would want to ensure I received it first.
Simple and easy to use!
Very compact design, easy to set up and simple to customize. I love the "warmth" brightness setting!
Great product
Great for seasonal depression. I live in a dark no natural light setting and this helps a lot. Looks good as well
Easy & Effective!
This product is bright! Love the feature of adjustable timer! Super easy to use! And very portable! Good for travel!
Helps with SAD (Seasonal Depression)
Plug and play with smart memory. Helps with getting "sun" light and can also help prepare you for sleep.