Recessed LED Deck Light Kits 3 Color Changing
💡

【High Bright and Energy Save】Bright 3 color temperature can change by remote control LED deck lighting brings an impressive starry effect, making you feel sweet and comfortable in your house. super quality LED chips(0.8W/pcs), DC12V low voltage output, no flicker; 50000 hours life, energy-saving, and environmental protection. Durable and stable copper 3-pin connector made of PVC fireproof material, more secure.

💡【Multifunction Wireless Remote Control】Equipped with a 12-meter RF range wireless remote control. (1) Three Color Modes can be switched: white light---warm white light---warm light; (2) 5-Level Brightness Adjustment: 100%--75%--50%--25%--10%, you can freely control the color and brightness of the light; (3) Timing Function, it can count down work time in 4H-8H-12H, which brings more convenience to your life.

💡【Dustproof and IP67 Waterproof】Made in high-quality Acrylic/ABS and 304 stainless steel, lights body and power supply are all glue-filled, completely insulated, and waterproof IP67. Can be installed on deck stair, deck step, patio, floor, eaves, pool, walkways, kitchen, garden outdoor led landscape lighting, indoor&outdoor decoration.

💡【 Easy to Install & Detachable】Drill holes, push led deck lights in, connect cables. They can be installed anywhere a hole can be drilled. The LED lights do not heat up and can be easily installed without the help of an electrician. The 10pcs decking lights are detachable and in parallel connection, you can only install part of them based on your need. (The led deck light kits still work fine if one or two of the deck lights fails.)

💡【12 months warranty】We provide 12 months of free replacement service. As long as you are not satisfied with any quality problems during use after receiving the goods, you can contact our customer service. We confirm the product problem and replace the new product for you. Click the "Add to Cart" button to have your LED deck light shipped today.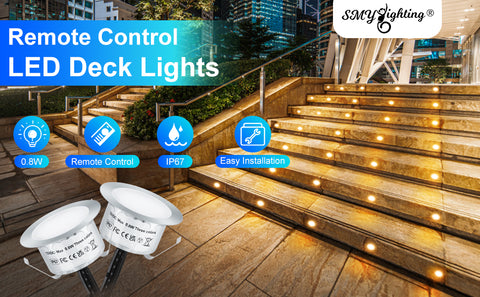 Why choose SMY led deck lights for your house decoration?
Our deck lights have some different advantages compared with others:
1. All SMY Lighting deck lights have high quality and unique designs. 3 Colors can be switched, warm light; warm white; white light, and changed by the remote controller. Can help your house space bring a more colorful experience
2. Comes with remote control, you can freely control the color and brightness of the light, Just the suitable brightness gives your family and kids safer walking at night. Low voltage 12V input no hurt the human body. As well as the timing function can start/off work as you set the time and have to remember the function.
3. The deck lights are IP67 waterproof - suitable for use outdoors and in other places except under the pool.
4. Polished stainless steel bezel of the led deck lights kit can resist any bad weather with top quality.


The pursuit of a better life is our common desire. Decorating your house is the best reward for your family and yourself.
Note:
● Please pay attention to the distinction between positive and negative wire, there is an arrow signal on the wire.
● The length between each light is 1m(3.28ft), if you want to extend it, please purchase the extension cables separately.
● Please pay attention to these lights' cut-hole
●Recessed cut-hole:30mm(1.18")
What you will get in the box:
16 x LED Deck Lights(0.6w/light)
1 x DC12V Power Supply(Max 14.4W)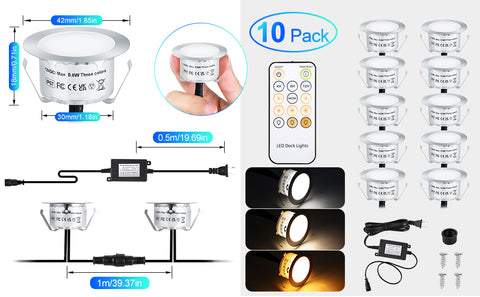 Features: Remote Control
3 Colors: Warm, White, Warm&White
Timer Mode:4H-8H-12H Time Turn Off
Brightness Adjustment:100%-75%-50%-25%-10%
Waterproof: IP67 Waterproof
Material:PC fire-proof material & 304 Stainless Steel
Color temperature:2800-6500K
Light Size:Φ1.65" x H0.71" / Φ42mm x H18mm
Mount Hole Size:Φ1.26" / Φ32mm
Cable Length(Per Light):3.28ft / 1m
Distance between two lights:3.28ft / 1m, Can be extended (buy extra cable to extend)
DC12V Power:0.8W/pcs
Power Supply:12W (Can link up to 20Pcs lights. Do not exceed)
Input Voltage:100-220V
Output Voltage: DC 12V