100W Outdoor Low Voltage Transformer with Timer and Photocell Sensor
【Built-in Dusk to Dawn Sensor】: Attached with this transformer, the outside landscape lighting will turn on automatically at dusk and off at dawn. 100W, convert 120V AC household voltage to 12V DC safety voltage, providing a safer and more practical electrical current level.

【Countdown Timer & Memory Function】: Press the select button(Time setting 1) to set 2/4/8/12 hour or the button(Time setting 2) 1/3/5/9 hour countdown easily, so it will turn on at dusk and automatically turn off 2/4/8/12 hour or 1/3/5/9 hour later. There have 2 kinds of time settings can choose. Memory function, the transformer remains in the timer mode you selected before, even when power outage.

【Easy Installation 】: Built-in hanging hole, mount it on outdoor walls directly. The wiring part must be waterproof and treated by the user, protects the transformer from rain, snow, dust, and abrasion, and withstands years of use.

【Automatic Circuit Breaker】: Built-in automatic circuit breaker, it will provide overload and short circuit protection effectively. Compact and lightweight, easily hidden, will not affect the appearance of your yard.

【Wide Application & Waterproof】: The 100W low voltage transformer made with high-performance flame retardant material protects the transformer against all severe weather conditions, is corrosion resistant, and withstands years of use. Not only use for SMY Lighting led lights, but compatible with all low voltage DC12V LED landscape lighting, like a spotlight, pathway light, garden light, water feature, etc. The total power of the lighting should not exceed 90% of the light controller capacity.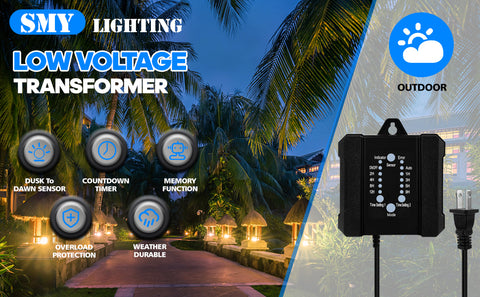 Warm Tips
This low-voltage transformer 100W includes a timer with Photocell Sensor.
This can be only used with LED landscape lighting, please do not connect it with incandescent or tungsten lights.

When the "

ERROR"

 

light is on, the output is overloaded or short circuit. To solve it, pull out the plug and check the circuit. Then, replug the transformer into the power outlet again, and the product automatically resets.

This 100W transformer with timer and the dusk-to-dawn sensor is not only used for SMY Lighting products but also can use for other led lights which input DC12V.
Outdoor Low Voltage Transformer - 100W
How to use this light transformer with timer and photocell light sensor
1. Calculate the total wattage of your LED light fixtures in your plan.
2. Choose the transformer that is large enough to support the total wattage you need. (Our led power supply only can load on 100W at max)
3. The transformer wattage load (total watts needed for your fixtures) should be within 90 percent of the rated capacity of the transformer.
Specifications:

Input:100-240V AC 50-60Hz

Output: DC12V 8.3A.

Max Power Rating: 100W

Timer and Sensor Function.

Weather Durable Features.
On and Off Switch / Auto
Press the ''Model'' button to choose the led transformer work in On//Off or Auto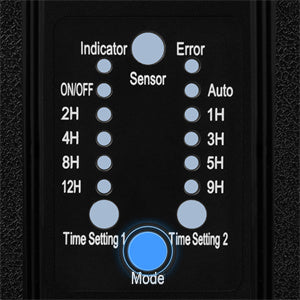 Sensor Button
Check the led driver is already connected to the power supply. Then it can work as well.
"Indicator" lighting works well for the power supply.
"Error" lighting should be checked on the connecting outlet again.
"Auto On/Off" Mode
Attached with this light controller, the landscaping lights will turn on automatically at night and off at the dawn.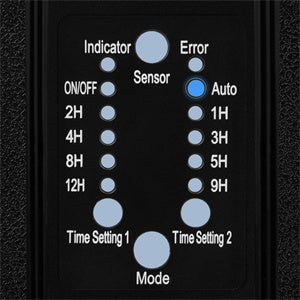 "Countdown Timer" Mode
Light control timing-with this mode, the transformer will automatically turn on at dusk and turn off 2/4/8/12 hours later.
SMY Lighting transformer has 2 kinds of timer settings that can choose.(2/4/8/12hour &1/3/5/9hour)